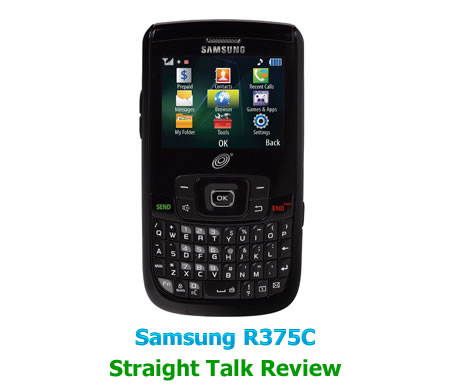 I recently upgraded my Straight Talk prepaid phone from the Samsung R355c to the R375c. The two phones are very similar in a lot of ways, but i do like upgrade a little bit better.
The Samsung R375C uses the Verizon network and I seem to have great coverage just about everywhere I go.
Texting is a breeze with the full QWERTY keyboard and since the keys are slightly raised I have not had any issues hitting two keys at once.
The phone only has a 1.3 MP camera, but manages to take some pretty decent photos.
The operating system seems much speeder than the previous model, but the functions are basically the same except for the  more modern looking icons.
The QVGA color display is crisp and clear making the text and photos easy to see.
The phone book holds 1000 contacts which is much more space than I think I will ever need.
The MP3 player is pretty basic, but works very well.
The External speaker could be a little louder, but it's not that bad.
The appearance of the phone is very nice and is a bit glossier than the previous model.
The Samsung R375c is a very solid Prepaid phone that gets very good reception and extremely easy to use at a low price. I purchased this phone at Walmart for $69.98 along with the unlimited Straight Talk service card for $45. The phone was easy to setup and I was able switch my phone number over without any hassles.
Great Phone! Great Service!